Prince Adventures Tours and Travel
Welcome to Prince Adventure Tours And Travel Kenya... Your Big Five Destination. We are trusted by our clients and have a reputation for the best services in the field. We have have value for money and any amount of money paid by our clients must relate to the quality of services offered by us to our clients
Why us and not Others....
1. We do not compromise services.
2. We believe in absolutely perfect services Leading to a Happy Enjoyable and Memorable Holiday with us.
3. We are great listeners to our clients suggestions.
Kindly confirm the tour soonest possible so that we can send our reservation vouchers to secure your rooms and the offer price given.
Transport and Accomodation
Ready for an unforgetable tour?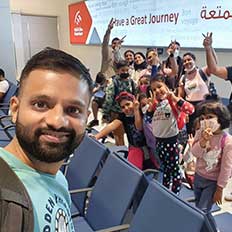 Mr. James Martin (PATTA) arranged a masai mara trip for us a group of 4 families (16 people) from Dubai, UAE. On behalf of our group I coordinated with him for our need and requirements and finalised everything as per our need. We found our trip was a success and memorable lifetime event...
Beautiful and well plan itineraries. Had 3d2n tour on camp near Maasai mara with pick up service from hotel to camp site. Tour started from pick up date continuously till last day. Services and tour guide experiences are good. Friendly and affordable budgets spending with value for money experiences.
A wonderful experience to witness the nature with your naked eyes. Mr. Martin James from Prince Tours & travels made our trip memorable by organizing the entire tour including Pickup from the Airport, Stay at Lake Naivasha, transfer to Masai Mara & Stay and back to the airport for a group of 8 people (including 2 Kids).
Excellent experience !! Very good service and unparalleled hospitality .. Highly recommended👍👍… very trust worthy Small recommendation : amboselli hotel is not up-to the mark , car is average … but driver and guides are excellent , they made the tour very special
Thank you for making my trip unforgettable! The best team was our driver Dan and our tour guide Steve . They know exactly how to make your trip memorable and they assist us with everything that we need . We saw so many animals and we have an amazing safari ! Thank you once again ! Don't miss this team it's worth it ! I will come back soon ! Thank you once again !
Prince Adventure Travel Africa is Kenya's Top Tour Organizer.
Josephine Ndarawe
Director operation
Stephine Nelson
General Manager
Jackson Kahindi.
Transport Manager
Dickson
Head Airport Transfers Mombasa Office
Ben
Tour Leader Nrb Office
Dennis Mwalimu Stephen
Head Tour Guide
We have a Staff of 38 people ready to Cater to you. These are all vetted and experienced veterans in their specific fields.